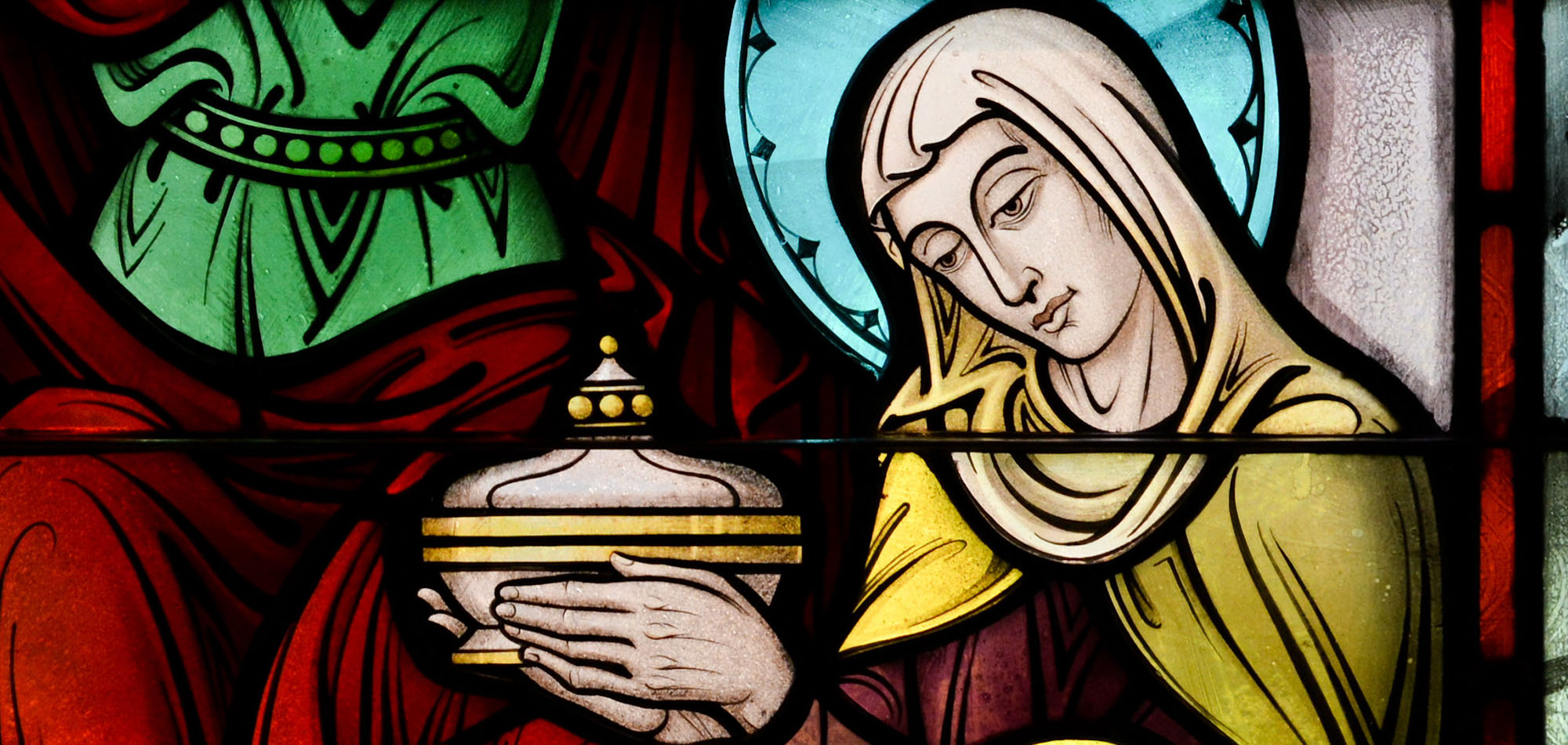 Martha is a woman of the Gospel.
Let us introduce you to the Martha who inspires us. She...

welcomes
serves
cares
tells the truth
Martha welcomes Jesus and his disciples with gracious hospitality but is frustrated with her sister Mary not helping her. Jesus reminds her:
"Martha, Martha, you are worried and distracted by many things; there is need of only one thing."
Luke (10:35-42)

believes
loves God
lives in hope
challenges and risks
At the Lazarus deathbed, Martha declares her faith in Jesus:
"You are the Messiah, the Son of God, the one coming into the world"
John (11:1-44, 12:1-9)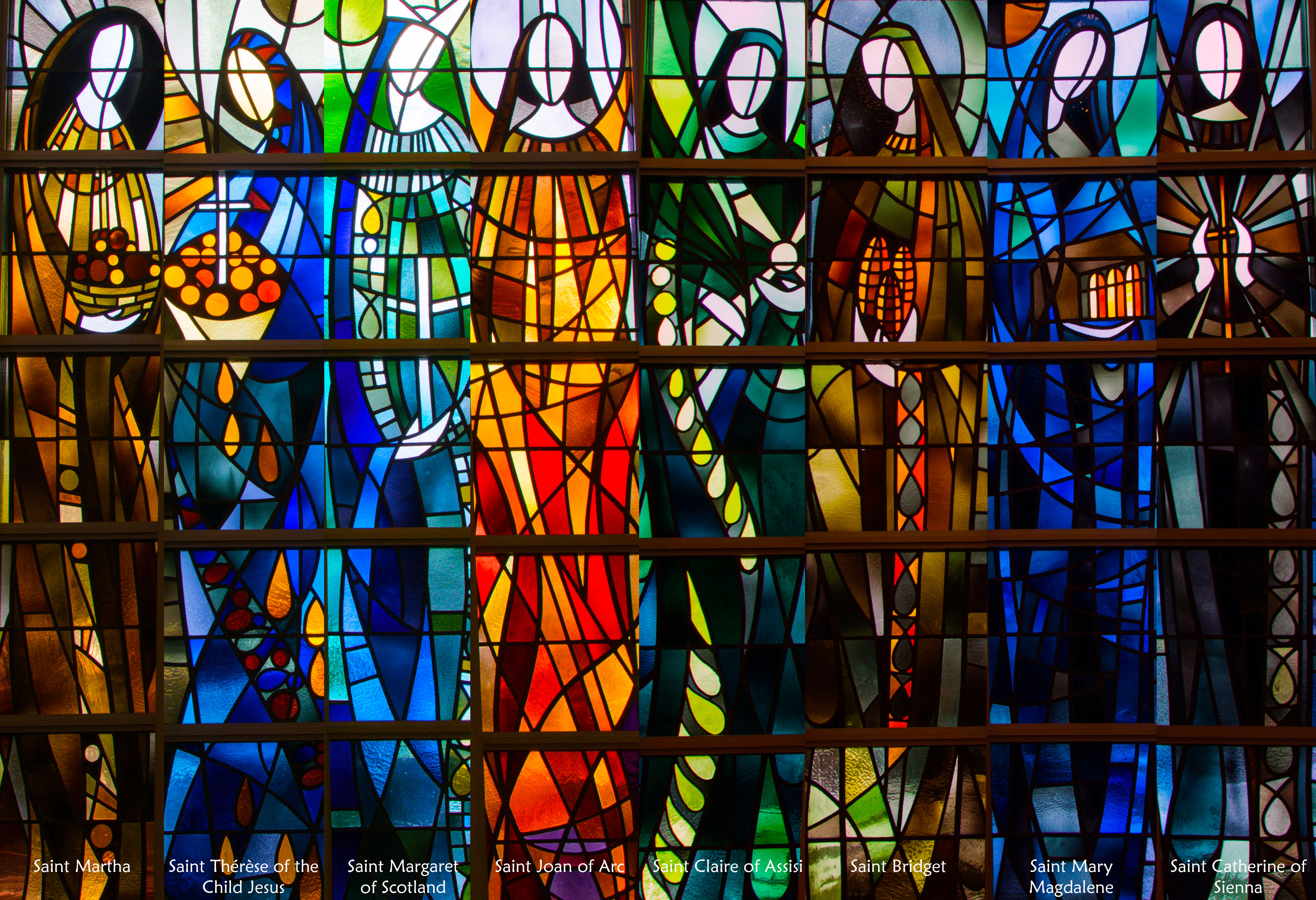 Eight long stained windows in the Heritage Gallery are representations of the eight beatitudes, as expressed by four active and four contemplative women saints. Each is shown in the color and symbols that indicate her mission in life. Saint Martha is clad in shades of brown and carries a dish of food with the tamed dragon under her feet. Her warm ochres and sienna earth tones are very appropriate as she is an earthy woman who exemplifies the essence of hospitality and simplicity. Martha's beatitude is: "Blessed are the merciful…" (Matt 5:7)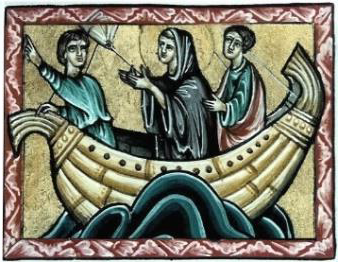 (Image in public domain)
Through time, folklore and art captured in legendary form the life of Martha and her cult developed.
Legend: Martha, expelled from Palestine
after the death of Jesus, landed in
Marseilles and shared Good News with
the people of her newfound home.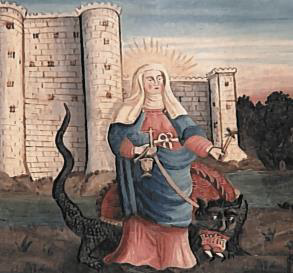 (Image in public domain)
Martha was the symbol of maturity, strength, common sense, and concern for others.
Legend: Martha taming a fierce dragon
by holding up a cross and sprinkling it
with holy water.
In the early 50s, a new, contemporary image arose. Martha, as depicted in statue, stands erect carrying a jar of oil, symbolic of the service of healing, hospitality, and blessing.
How is Saint Martha relevant today?
Saint Martha holds a pivotal and sacred place in the heart of our Congregation.
In choosing to live the Martha way of life, we are inspired by her loving relationship with Jesus, her spirit of welcoming hospitality, her courage in the face of difficulties and her compassionate presence in service to all.

PRAYER TO ST. MARTHA
O Blessed St. Martha,
who had the happiness of
serving the Divine Master
in your own home at Bethany,
obtain for us the grace to serve
God with love and fidelity.
May we share in the faith
which enabled you to recognize
Christ as the Son of God.
May our hope be as strong as yours
when you trusted Him,
even though He seemed to fail you.
And may our love of God grow and
be expressed, as was yours,
in loving service of others.
St. Martha, model of all who
desire to serve God in
faith, hope and love,
obtain for us the grace
of final perseverance.
Amen.